Overview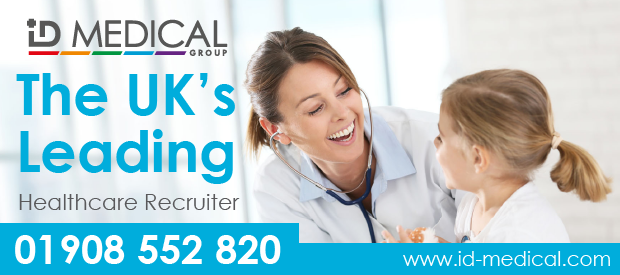 Award-winning, multi-discipline healthcare recruiter ID Medical
was established in 2002 and has since maintained its enviable position as a
market leading locum agency in the recruitment of high calibre medical staffing
to both the NHS and private medical sectors.

As the UK's leading provider of doctors, nurses, allied health
professionals/health science services (AHP/HSS)and clerical staff,
ID Medical holds preferred supplier contracts with over 80% of hospitals
nationwide and supplies over 3 million hours to the NHS per annum.

Since its foundation, the company has earned itself industry-wide
accreditation and success with an amounting collection of accolades. These
include the Recruiter FAST 50, Investec Hot 100, Recruitment International Top
250 and The Sunday Times Virgin Fast Track 100. Most notably, through an
abiding focus on employee satisfaction, ID Medical was crowned Recruitment
International's 'Best Recruitment Company to Work for 2013' and placed 33rd in
The Sunday Times Best Companies to Work for 2014. This demonstrates ID
Medical's commitment to the industry whilst validating its credibility as a market leading
locum agency.

Career Opportunities
ID Medical is the leading independent provider of locum workers to the NHS and private sectors, supplying doctors, nurses, AHP/HSS and clerical to hospitals all over the UK. If you are looking for a rewarding career, join us at ID Medical and help us transform the lives of the people who use our service for the better.
Culture
The ID Group is committed to providing a fully consultative, premier level recruitment service to both our clients and candidates. By monitoring internal and external influences in the markets we serve, we aim to deliver a bespoke and evolutionary recruitment solution that constantly adapts to meet our candidate and client needs.

We focus heavily on delivering results, ensuring our hospital clients can rely upon us to deliver quality staff consistently across the board. At ID Medical our clients are partners in our business. We pride ourselves in delivering a personal service where our clients are not just numbers on our database. It is a fact that a happy client delivers better results for our hospitals. This personal touch allows our hospital clients to benefit from lower cancellation rates and higher fill rates across the board.
Benefits
24 hour support service
Flexible hours to meet your needs
Routine employee recognition and appreciation
A culture that is supportive, accommodating and rewarding
A rewarding challenging place to work