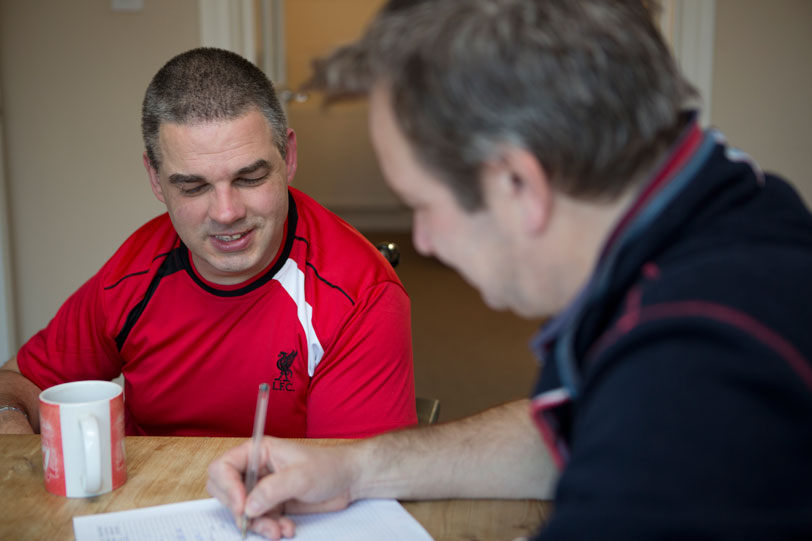 Salary : £7.00 - £8.00 /Hour
Location: UK-Tewkesbury


Support Worker - Tewkesbury
Job Description
Role Description
Support worker for Tewkesbury - various permanent and relief hours

1. Permanent 20 and 30 hour contracts
2. Relief Support worker for Tewkesbury and Gloucester area

This fun and varied role involves working in a team of Support Workers at two of our services to help support and arrange activities for people with a learning disability as well as personal care and administering medication.

You'll help arrange their pastimes, social activities, outings and events and help maintain their personal interests - vital to promoting their independence - as well as enhancing their involvement with family, friends and the local community.

We would like people to be flexible across the morning, evening, weekend and bank holidays.

No experience is necessary but a sense of fun, creativity, and the ability to encourage and motivate others are essential. A genuine interest in the people we support is vital - its great to know you are helping them celebrate life to the full.

* An enhanced DBS will be required for each successful candidate ( Paid for by Mencap, T&Cs apply)

Job Reference:- 4970

Benefits
We believe that all our people are amazing and we wouldn't be able to achieve what we do without them. Here's how we value and invest in them.

At Mencap we recognise and reward great behaviour and work with ?You Rock' : our awards scheme for staff and volunteers. Thousands of colleagues each year say thanks to each other through You Rock for a job well done, and every few months we give out treats to people who've done something extra special.

Our training is award winning and has a proven track record of creating high quality improvement in our services. Our innovative approach and commitment to continuous development has gained us ?Centre of Excellence' status from Skills for Care. And we are fully committed to the Leadership Qualities Framework so our training clearly helps to develop the attitudes and behaviours needed for high quality leadership at all levels.

Developing our people is important to us. Through ?Shape your future'(our performance appraisal framework) we are able to understand how the efforts of each person who works for us; help us achieve our goal of making a difference to the lives of people with a learning disability. Our managers and teams have meaningful conversations about their day to day work, how they are contributing towards our goalsand most importantly, how they demonstrate the values that are so important in everything we do.

Any colleague rated as ?excellent' in their Shape Your Future performance review is eligible to apply to our ?You've Got Talent' programme, where they get access to a mentor, a chance to get involved in special strategic projects, our leadership training programme or to apply for a bursary to undertake additional training.

We offer a competitive holiday allowance of 28 days per year (including bank holidays), rising by one day each year to a maximum of 35 days. We also allow employees to buy up to 10 days' extra holidayeach year through our holiday plus scheme.

Through our pension scheme with NEST we help our people save for their future by matching the payments they make into it. If eligible, you will be automatically enrolled into NEST within three months of joining. If you are in NEST, you will also be eligible for life insurance cover.

Being an employee means that you have exclusive access to Mencap Extras, an online portal offering discounts at high street shops including major super markets, cinemas, gyms, visits to leisure / theme parks, holidays : flights and hotel bookings and much much more. Discounts come in various forms and can vary from 3% to 30%.

You can also take advantage of salary exchange offers on our childcare voucher scheme, Cycle2Work scheme and loans for mobile phones. We also offer loans to buy season tickets for travel, laptops and tablets.

Through our Essentials4health scheme you can also join our health cash planat competitive rates, which allows you to claim cash towards dental check-ups and treatment, new glasses or contact lenses, therapy treatments as well as have access to a 24/7 GP consultation service.

In addition, you will be able to access lifestyle support, our employee assistance programme, which is around the clock free and confidential assistance via phone, email, instant messaging and, where necessary face to face meetings, to help you on matters such as consumer rights, wellbeing, family matters debt management as well as useful resources and advice on anything from finding a reliable babysitter or locksmith to organising a children's party.

At Mencap, we are so much more than an employer and you are far more than just an employee.


Job Requirements
care, learning disability, support work
Company Overview
Mencap is the voice of learning disability. Everything we do is about valuing and supporting people with a learning disability, and their families and carers.

We work with people with a learning disability to change laws and services, challenge prejudice and directly support thousands of people to live their lives as they choose.

What makes us who we are

We are inclusive, trustworthy, caring, positive and challenge when we see things that aren't fair.