Ministers claimed success yesterday in the drive to eliminate mixed sex wards from hospitals.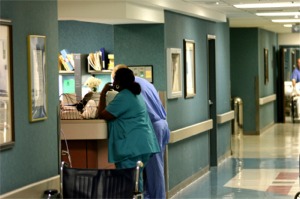 Just five per cent of hospitals are still having to mix patients.
The rest claim to have "virtually" eliminated the mixing of the sexes, according to the department of health.
Patient groups said they were alarmed that as many as five per cent had been unsuccessful.
Government officials said most of the remaining hospitals had "clear action plans" in place - and those that failed to provide them would face fines.
Modesty curtains and frosted glass - along with new bathrooms - have been used to segregate the sexes.
Health secretary Andy Burnham said: "This was an extensive programme of improvement work undertaken within a tight time frame. We knew this would not be an easy task, but I have been impressed by the dedication and commitment of trusts to deliver this work and put an end to a mixed-sex environment that patients find unsettling, uncomfortable and undignified.
"It is simply unacceptable for top quality treatment by our finest surgeons, doctors and nurses to be undermined by a sub-standard mixed sex environment."
But Katherine Murphy, director of the Patients Association, said: "Whilst we welcome the progress, we are completely astounded that some Trusts are still not compliant.
"It is simply not good enough. Patients were promised an end to this in 1997, but now in 2010 we're being told some Trusts still need more time."